The curtains may have fallen on this year's HLTH conference, but the enlightening revelations and transformative innovations shared resonate with us. A blend of optimism and technological promise, HLTH 2023 was a beacon of hope and direction for healthcare's future.
As a curated, personalized experience, HLTH 2023 catered to every participant's unique objectives. Whether it was networking with industry pioneers, diving into emerging trends, or advancing career paths, the conference was a convergence point for over 10,000 attendees, including 2,500+ CEOs. A staggering 300+ speakers and 800+ sponsors enriched the discourse, positioning HLTH as the quintessential healthcare event of the year. If you missed the event, here is a recap of our partners' presentations from the event.
Harnessing Data: Microsoft's Healthcare Revolution
In the vast expanse of healthcare data, a staggering majority remains untapped. It's reminiscent of a vast musical archive where most compositions go unheard. Microsoft Cloud for Healthcare aims to change this narrative. Introduced with a flourish at HLTH 2023, Microsoft Fabric emerged as the pièce de résistance, breaking barriers between isolated data and actionable insights.
Prominent healthcare institutions, including Northwestern Medicine, Arthur Health, and SingHealth, are keen to harness Fabric's capabilities, underscoring the enthusiasm for a digitally transformed healthcare horizon. Microsoft doesn't stop there. Azure AI reinforces this shift, making medical terminologies more comprehensible and offering AI-driven chatbots for instantaneous patient engagement. For those weary of administrative burdens, the Dragon Ambient eXperience (DAX™) Copilot offers solace, freeing up clinicians to emphasize holistic patient care.
At its core, Microsoft's innovations ensure that data isn't merely numbers—it's an instrument for change, paving the way for a brighter, more efficient healthcare future.
Collaborative Health: Google's Vision for an AI-Powered Healthcare Future
In healthcare's complex tapestry, no single player can weave the entire narrative. Google, recognizing the synergy of collective endeavor, champions the belief that health, much like other spheres, thrives on collaboration.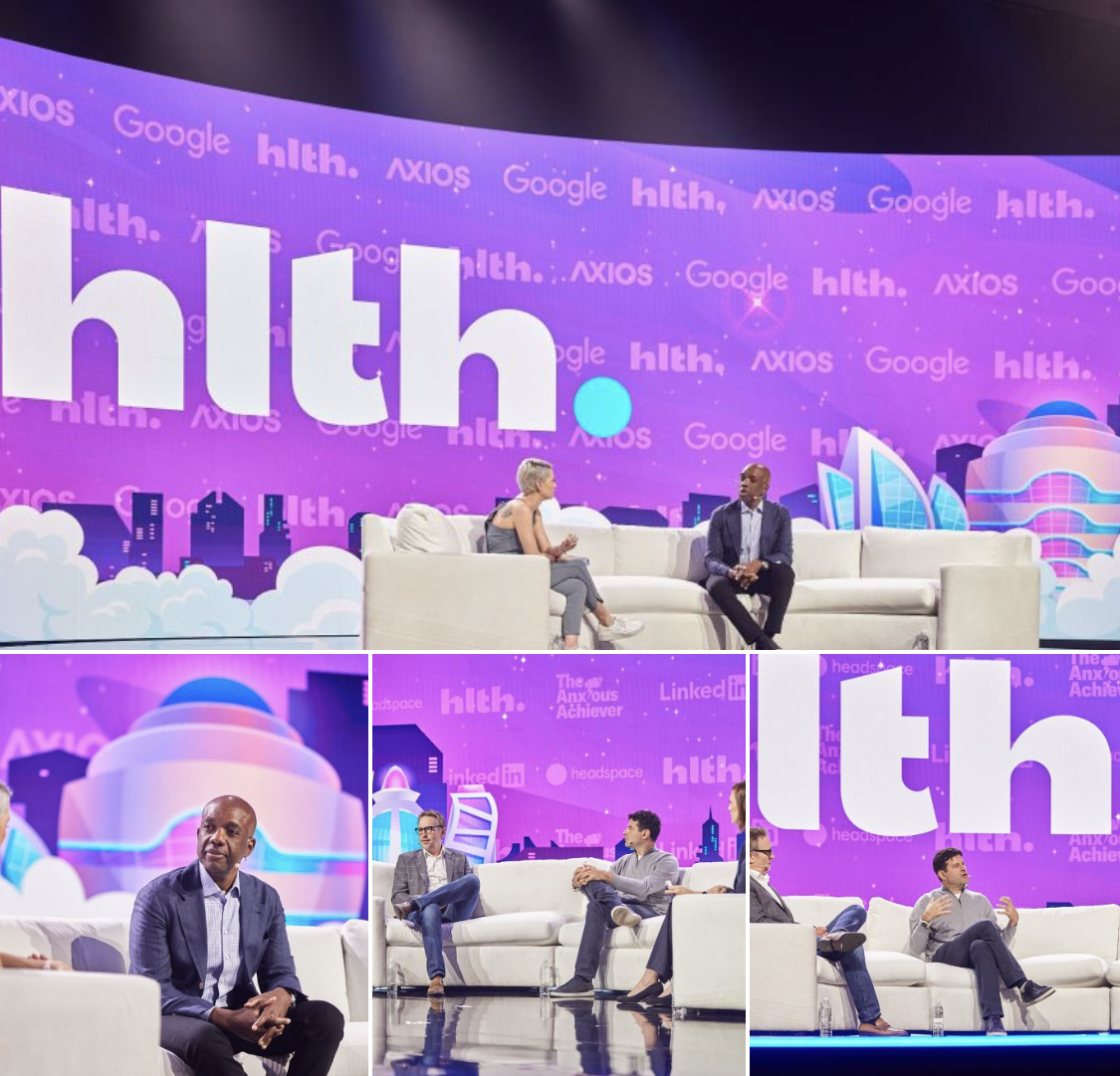 This ethos was palpably alive as Google Health marked its presence at HLTH. Drawing over 10,000 stakeholders, the conference served as a melting pot for shared visions and aspirations, with AI emerging as the cynosure.
The promise of AI, though immense, isn't a catch-all solution. However, its transformative potential, underscored in discussions with medical luminaries and business leaders, set the tone for HLTH 2023. Google's tryst with AI is longstanding, shaping user experiences from search engines to wearable tech. Collaborative ventures, such as the partnership with the WHO, widen the reach of reliable health information, reflecting Google's commitment to global well-being. Innovations like Med-PaLM and its successor epitomize the harmonization of AI with medical expertise, addressing challenges like fragmented patient records and setting new industry benchmarks.
Guiding Google's ambitious vision is a blend of boldness and responsibility. James Manyika, SVP of Technology & Society at Google, eloquently emphasized AI's monumental impact on global health during his HLTH address. To make this vision tangible, collaborations form the keystone. Google's partnership with iCAD, geared to expedite breast cancer diagnoses, is a glowing testament to this synergy.
A Bright Horizon Beckons
The health sector stands at the cusp of a transformative era, richly infused with artificial intelligence and collaboration. As industry titans like Google and Microsoft steer the ship with innovation, responsibility, and strategic alliances, a radiant, tech-augmented healthcare future awaits us all.
With such an impactful and insight-filled event, what will HLTH 2024 hold?