When it comes to helping those around us, Productive Edge cares. For us, that means turning caring into engagement. That's what PE Cares is all about. Starting in January, Productive Edge Cares launched the Hunger Games Food Drive, a friendly competition amongst PE employees to see who could bring in the most non-perishable food items for donation to the Pacific Garden Mission homeless shelter.
Productive Edge Hosts Hunger Games Food Drive
In order to launch this competition, PE Cares formed five teams. The goal for each team was to collect the largest number of goods in their designated drum. Through a series of daily collections and special events, the teams were able to amass over 5, 50-gallon boxes of nonperishable food items.
The winner of the event will be decided by a collection of points from mini-challenges and larger competitions, and the overall competition. To further aid the community, members of the Productive Edge team will be volunteering to serve dinner at Pacific Garden Mission on February 7, 2019.
"The Hunger Games Food Drive is a way for Productive Edge and PE Cares to give back to the community and to create some friendly, competitive fun along the way," said Tory Fedder, Marketing Coordinator and PE Cares Coordinator. "Placing mini-challenges throughout the month of January kept everyone engaged and increased participation, which was at a record high for last month's event."
UIC Black Tech Scholar Job Shadowing @ Productive Edge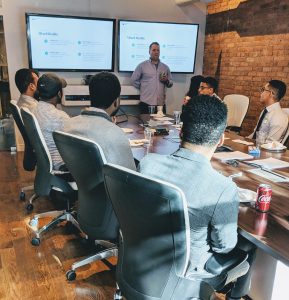 Another activity in January to engage with the community was the first job shadowing event of the year. Partnering with the University of Illinois-Chicago (UIC), Productive Edge invited a team of UIC Black Tech Scholars to join us for a unique networking event. This action-packed, in-house experience was more than just a Q&A session. It was a hands-on opportunity to learn about what exactly goes on at Productive Edge, as well as what is trending in the industry.
"When I was starting out, I had mentors who helped me in my career when I needed the push the most. Now it hits home for me and I want to help those starting out their career who need guidance and direction in where they want to go," said Carmen Bertucci, Delivery Director at Productive Edge.
Some of the specific topics of discussion included:
Artificial Intelligence and Machine Learning
Intelligent Automation
Cloud Native Solutions
Internet of Things
Digital Experience Platforms
User Experience
and Mixed Reality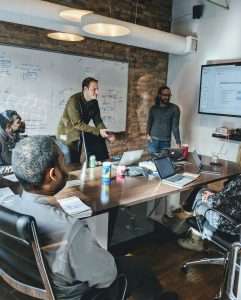 Productive Edge Cares will continue to help the community through 2019. Stay tuned for upcoming events and opportunities to enhance your knowledge and improve your community.