Productive Edge aspires to forge the future of technology industry leaders through organizing events such as hackathons, website challenges, and collegiate job shadowing sessions. In December 2017 we continued down that path by collaborating with the By the Hand Club for Kids Foundation to host an emerging technology workshop for inner-city teens.
Productive Edge employees Jared Weinerman, Bhavini Patel, Susanna Gevorgyan, Nicole Jostes, and Kyle Dahl traveled to Englewood, a neighborhood in the south side of Chicago, with a goal of promoting the value of being technologically proficient and the professional opportunities it provides.
The team set up four stations overviewing trending topics prevalent in today's technological landscape: Artificial intelligence, virtual reality, the "Internet of Things", and Blockchain technologies. Each station exposed students to new products and ideas through hands-on activities, including:
Asking an Amazon Echo unique questions to experience speech recognition capabilities
Traveling digital worlds and gaming landscapes through virtual reality devices
Exploring the ideologies behind Blockchain technologies like Bitcoin and Ethereum
Busting a move while wearing fitbits for viewing real-time data changes on the web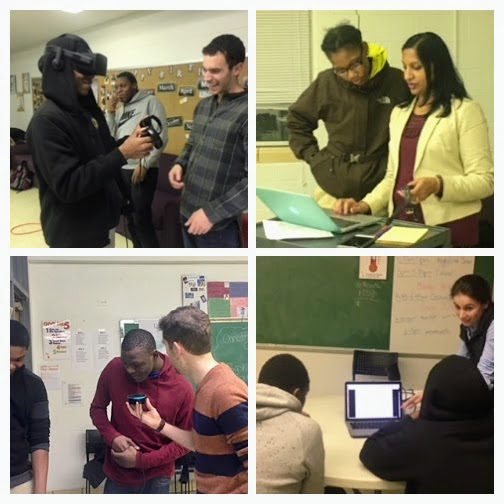 To wrap up the event, PE provided resources outlining steps students can take to kick-start their careers. Sites such as Khan Academy and the Englewood Accelerator, as well as Chicago's local libraries, are terrific tools that students can already use to learn the skills they need.
Workshops, job shadowing events, and hackathons in local communities are methods that we at Productive Edge utilize to inspire Chicago's youth. Without that motivation, young adults' technology ambitions may remain untapped. Events such as these invigorate their aspirations to become a part of the technology workspace, which provides promising, fruitful careers and a brighter future.
If you would like to partner with Productive Edge for future collaborations and events, please connect with our team at services@productiveedge.com or 312-561-9000.