In a move to improve quality standards, Apple has announced a purge of the App Store by removing apps that they no longer deem as up to date, or of the quality standards expected in the store. Starting in October, Apple began seeking out apps "that no longer function as intended" and those that fail to meet the current review guidelines.
If notified by Apple, developers will have a chance to fix their problems within 30 days… unless the app is crashing on launch, in which case Apple will remove the app immediately.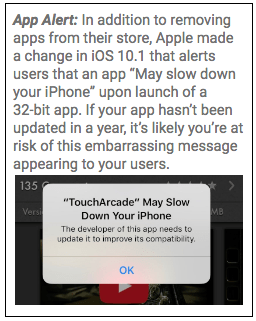 Well, Apple certainly kept their promise to clean things up and increased removals by a hefty 238% in October 2016, per app intelligence firm Sensor Tower. Apple has always had a process of removing apps for various reasons, but the spike of removing approximately 47,300 apps in a single month certainly shows they're committed to App Store quality. Trends measured for the past 30 days seem to reflect that the uptick in removals will continue for months to come. So the question still remains for many businesses… what do you do if your mobile app product is at risk?
Apple is not stopping at just broken or outdated apps, but will also be removing apps for a number of other reasons, which we've outlined below.
Concerned about your app? If your app meets any of these criteria, your app is at risk of being removed, and Productive Edge's Modern Mobility team is now offering an App Health Check service to help businesses keep their apps in good standing.  
Here's a quick look at some of the criteria:
Quality Apps
As mentioned above, Apple's message to developers is that if your App is crashing on launch with modern Apple devices and/or iOS versions, it will be pulled immediately from the store.
Compatibility
If your app isn't compatible with currently supported versions of iOS (iOS 8+), IPv6 support, iPhones and iPads, then Apple is likely to pull it from the store.
Move to Shorter Names - No More Spammy App Names
Some app owners have attempted to "trick" App Store SEO by creating long winded names that are injected with keywords to get their app to appear at the top of search results. For example, when you search "Instagram", one of the top results is "[app name] for Instagram - Follow Management Tool for iPhone, iPad, iPod by [company name]". Apple is making a move to prevent this and, moving forward, will require that names are concise - no longer than 50 characters.
Meeting Current Review Guidelines
This is a big one, as Apple could potentially reject thousands of apps from the Store that no longer meet their updated guidelines. A few criteria that could affect many apps are:
User Messaging and Inability to Work Offline 
Some apps are extremely reliant on external systems, server connectivity, and haven't been built to work when these systems are down. If your apps wasn't built to function when these become unstable, then Apple at least expects the app to notify the user of such reliance. Your app will need to detect when a network or system is unavailable and provide some sort of notification to the user, most commonly in a pop up message. Make sure this is included and able to be easily seen. If not, a fault with connection might be confused with a fault of the program itself.
Broken links 
These are a common rejection pattern from Apple. As they state, "All links in your app must be functional. A link to user support with up-to-date contact information is required for all apps, and if you're offering auto-renewable or free subscriptions or your app is in the Kids Category, you must also provide a link to your privacy policy."
Human Interface Guidelines must be followed
Apple seemed to enforce this one on a rather ad-hoc basis in the past, but Productive Edge has seen more and more pressure from Apple for developers to follow their Human Interface Guidelines.  This can include clear breaks from the guidelines, like the examples they publish below (see more here), but we've also seen rejections from Apple for the use of web views on core functionality, not properly identify HealthKit connections, or even due to font size deemed too small for accessible reading.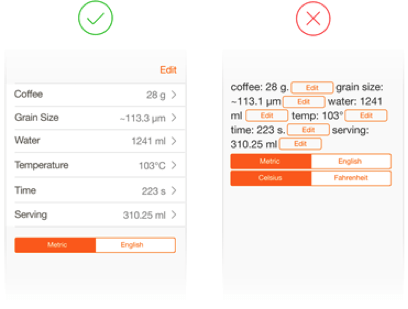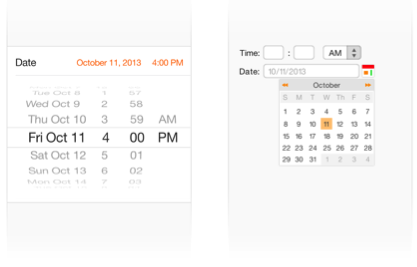 While moving to a shorter name is a simple fix, getting an app to support new versions of iOS, meeting design guidelines, and other review criteria requires a mobile expert. Reach out to Productive Edge today for an assessment of where your app stands against Apple's policies, and we'll handle everything you need to keep your app in good standing and in the hands of your customers. Connect with us at 312-561-9000 or at Services@ProductiveEdge.com.
Here's the note that Apple wrote out to developers: